News & events
Hanel PT – 11 years – A Stage of Confidence & Brighting
17/05/2018 | 08:18
On the afternoon of May 17th 2018, Hanel Production and Import-Export Joint Stock Company was very excited with the 11th anniversary of company establishment (17/05/2007 - 17/05/2018). The event was attended by President Ms. Tran Thu Trang; Deputy Director Mr. Nguyen Trong Ninh, Technical Director Mr. Nguyen Trieu Phong, distinguished guests from NGK Spark Plug company and representatives of all the departments together with all employees in the company.
On May 17th 2007, Hanel Production and Import-Export Joint Stock Company was officially established and located in Tien Son Industrial Zone, Bac Ninh province. Over the past 11 years of building and development, Hanel PT after many difficulties and challenges so far has become a prestigious brand company in the field of processing, assembly and import - export electronic components for automotive equipments, office equipments, security equipments and manufacturing Dry Machine used in agriculture.
For the success of Hanel PT today, it is impossible not to mention one of the founders who built HanelPT, one who is always full of energy and give inspiration to all employees. For the first of program, President Ms. Tran Thu Trang had the opening speech about Hanel PT in the stage of 11 years of building and development.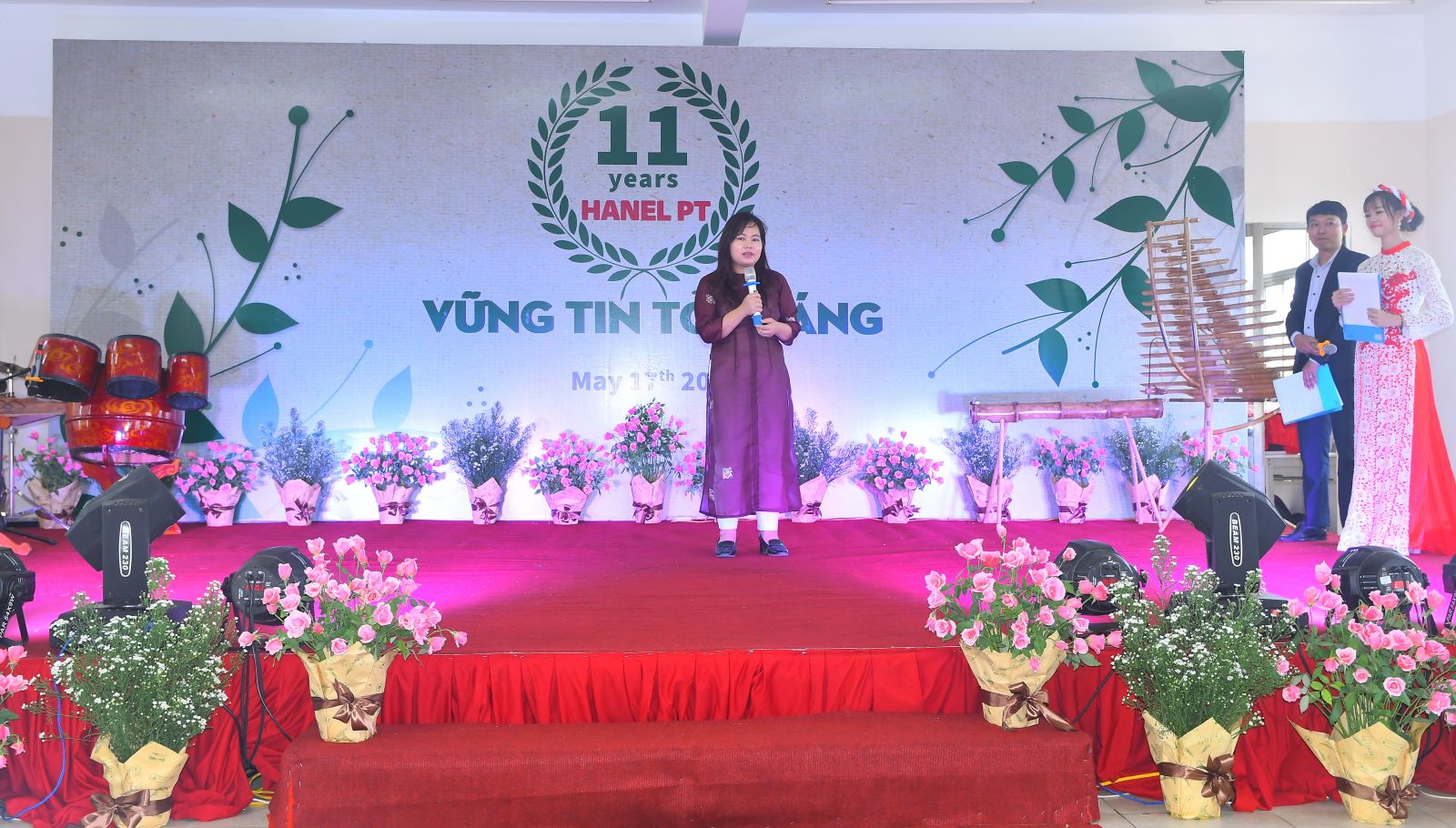 Representatives of NGK Spark Plug Company that has a long and good cooperation with Hanel PT from establishment also joined and shared happiness with Hanel PT team. Mr. Nomura (NGK company) also had a speech to congratulate Hanel PT on its success and 11-year maturation.
On behalf of all Hanel PT employees, Mr. Vu Van Hoan gave flowers to President Ms. Tran Thu Trang and sent her the most sincere feelings and thank for her contribution to Hanel PT during the past 11 years.
The 11 year anniversary program was prepared meticulously, especially with the traditional music performed by Tre Viet band that left a lot of impressions and feelings about Vietnamese soul, Vietnamese people for audience.
The main part of anniversary program is Hanel PT's 11 – year birthday together with the birthday of Hanel PT staffs in May. Board of directors, managers of Hanel PT and guests from NGK Company come on the stage to cut the birthday cake and shared happiness moment together.
In the program, there are many art performances held by Hanel PT staffs themselves and also performed by them. Dance performance "Vietnam oi" really makes the heat suddenly, brings the exciting atmosphere to the audience with the bright smile.
On the occasion of the 11th anniversary of foundation, the program has honored the typical staffs of HanelPT with outstanding achievements, contributing significantly to the strong development of the Company as well as working for Hanel PT for 5 years and 10 years, overcome many ups and downs together with Hanel PT.
The employees in Hanel PT are not just good in working but they also love sport too. The football program "Sôi động cùng sân cỏ Hanel PT" takes place with many exciting matches and many unexpected, dramatic and excitement emotions. The tournament closed in with 02 Third Prize; 01 Second Prize and 01 First Prize.
Next is the Launch of volunteering program "Ấp áp tình yêu thương" in 2018. The program has received contributions from many individuals and departments in the company and is expected to be implemented in mid-September.
There are very special music performances that have been practiced and prepared by Hanel PT employees. The Quan ho folk song performance "Ba quan mời trầu" took the audiences to Bac Ninh – Kinh Bac Quan Ho region.