News & events
Hanel PT Group - Electronic component manufacturing and processing company receives award of TOP 10 Businesses with "Application of Women's Empowerment Principles"
10/01/2022 | 06:16
As one of the most prestigious and reputable awards in the world for gender equality, WEPs aims to encourage and recognize the efforts of companies with programs and actions to promote gender equality and women's empowerment.
During its more than two decades of operation, HANELPT has always maintained and promoted the principle of women's empowerment as a unique culture. Equality policies in the workplace are a catalyst to help the business gain the consensus and response of all employees. Thanks to that solidarity, the business can create quality products and continue to maintain the growth impetus.
HANELPT always chooses a healthy culture from thinking to positive motto and applies it in behavior, training and decision making throughout the company. For example, on the occasion of International Women's Day, the company not only gives flowers and gifts to female employees but also male employees to give it to their wives, daughters, and lovers.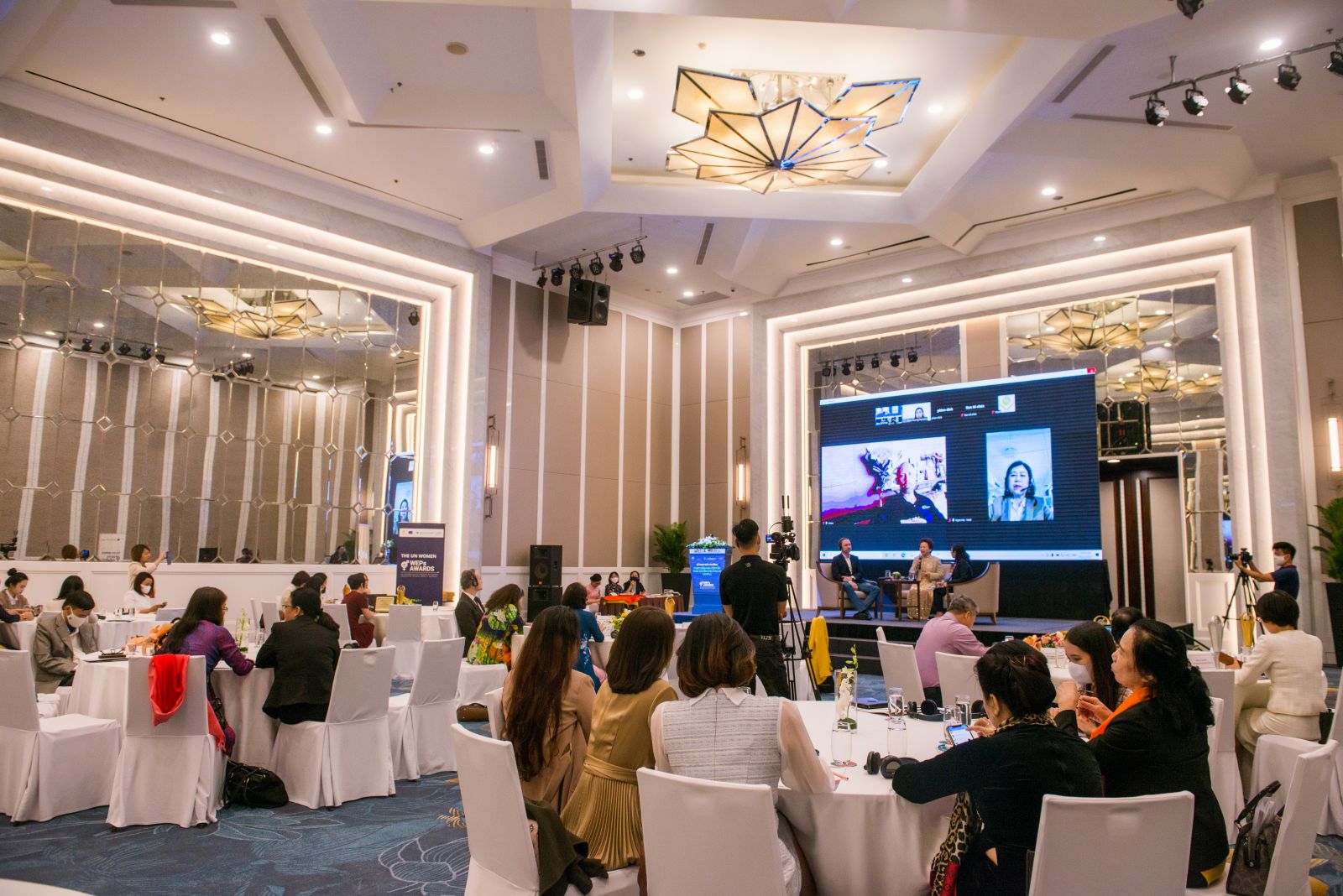 UN Women Asia-Pacific Women's Empowerment Principles Award
HANELPT always proposes policies to develop leadership roles of each gender. Women's empowerment will help to bring into full play the strengths of each gender and contribute to promoting balanced and sustainable development in the corporate environment. Currently, the percentage of female managers in production stages is quite high and 4/8 of senior managers are female. In particular, the leader of the organization - President Tran Thu Trang has well cared for the family and has been dedicated to the Company. Her decisions are very resolute and wise.
"Women's empowerment is very important to our company. We are a company operating in the fields of manufacturing electronic components. People are also surprised when I am a female leader of a company operating in the field of technology - electronics and even more surprised when 50% of senior leaders in our company are women. And maybe we make the machines work and be more emotional and we make our work harmonious, balanced and smooth. It is that great balance that help our business to experience many ups and downs in the past 21 years and develop sustainably through all periods. This year, we participate in the 2021 WEPs Awards to share our experience in the field that have been believed to be for men. We want to spread the great role in work as well as in leadership positions. What a waste for any organization and business that doesn't know how to use and elevate women - the other 50% of the world. Our gender equality initiative is to continuously recruit and train women for key positions in the company besides men. And we always create a collective with good attitude, kindness and thoughtfulness for family and social work. Our motto is always dedicated to work and family happiness. It is a way of life as well as a way of working of any employee in our company. We are so proud that during the past 21 years, we have continuously created business opportunities for women in our company. Currently, there are more than 200 women working in our company.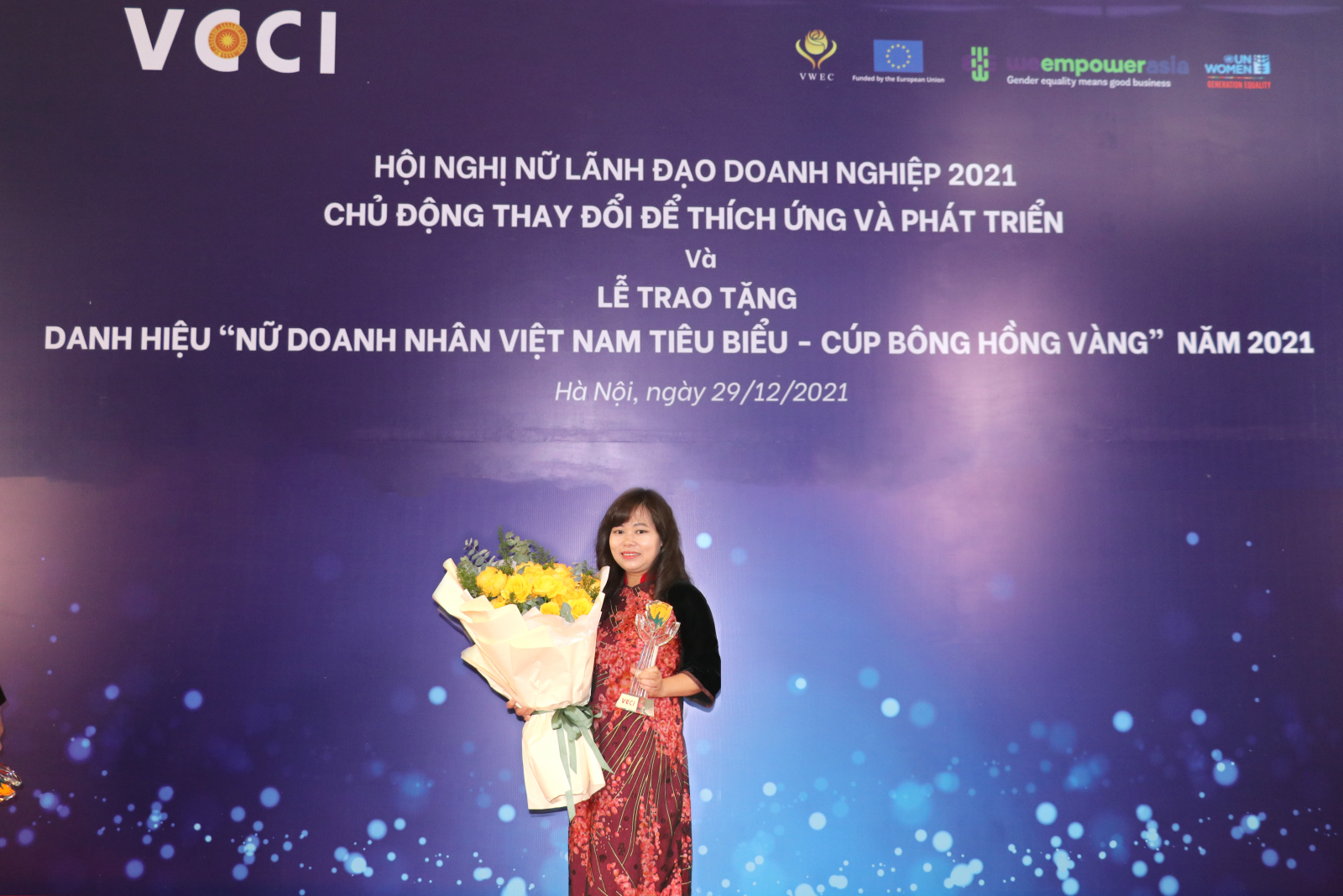 Ms. Tran Thi Thu Trang - President of Hanel PT Company received the title of "Typical Vietnamese Businesswoman - 2021 Golden Rose Cup".
Sustainable development is extremely necessary for all businesses, especially with the private sector because they are inherently very flexible and adaptable in any situation, we believe that it will take the lead in the roles of society… to create a generation of equality. It not only attaches importance to economic issues but also people and it also develops society to build a collective full of wisdom, morality, and attitude in addition to empowering women as well as employees of the company. We hope that the participation of Hanel PT will help the whole world and us realize that one day, our next generation, our descendants will not know about the word gender equality because we are all the same, we all want happiness, success and freedom. Once again, I would like to thank the organizing committee, everyone for giving Hanel PT this great opportunity!"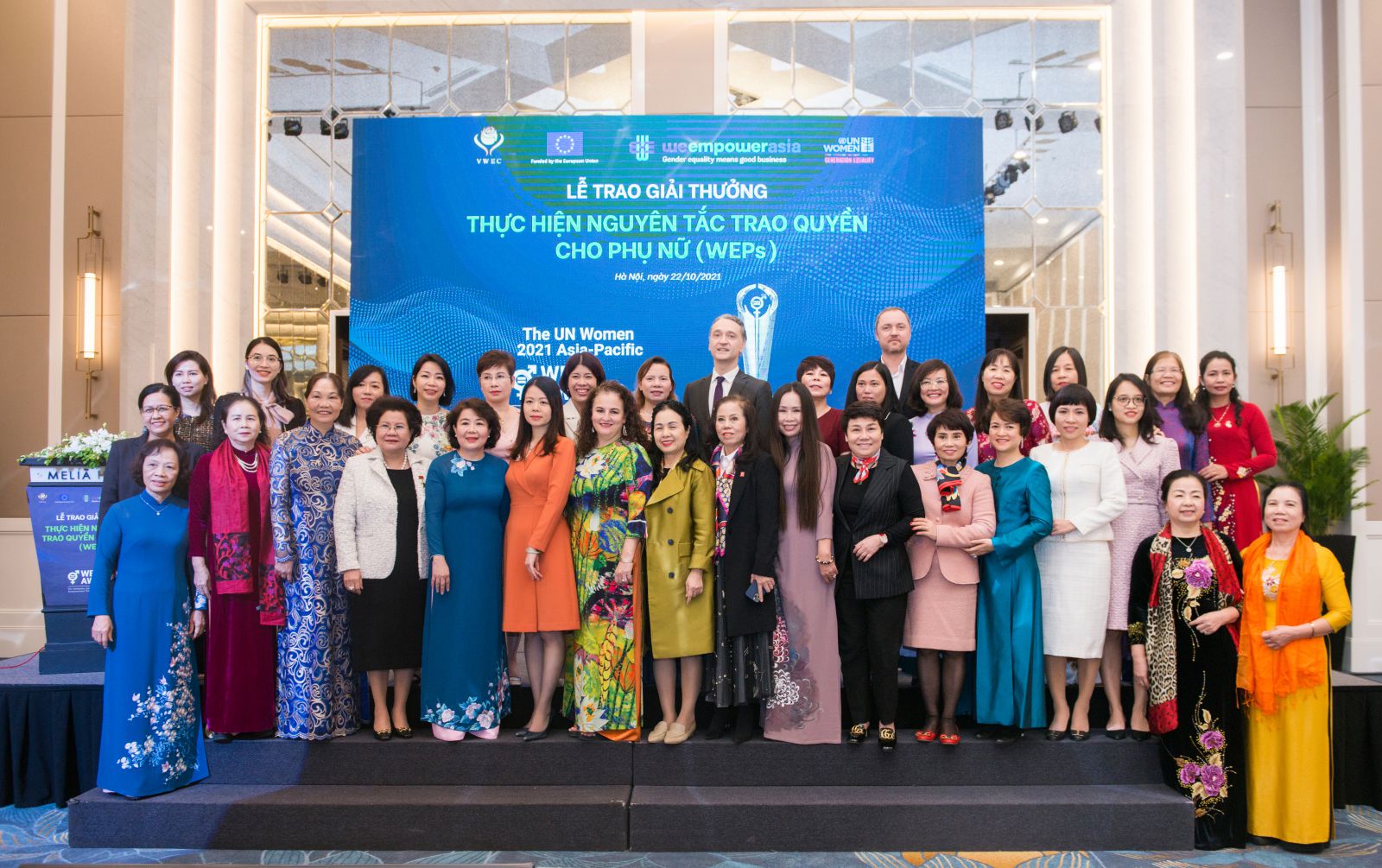 Ms. Vu Anh Tuyet (7th person from the left at the back) Head of Human Resources Department of HanelPT – Electronic component manufacturing and processing company at the program
In the culture of HANELPT, people always understand to love the people and find about the people and society. "Because if you live with kindness and gratitude, you can do anything and then you will always be for the better and not do business or do anything that harm the people around you," Ms. Trang said.
In fact, the company shows its profession in every detail to offer high-quality products and services, develops with its prestige. Meanwhile, everyone from the leaders to employees is active, healthy and encouraged to think critically to contribute to business growth. In a working environment that does not discriminate between men and women, creative and effective ideas at work are recognized.
Inspired by the Japanese philosophy, HANELPT operates on two slogans: professional at work and sound in lifestyle. HANELPT's core business is carried out in the spirit of "giving", for the benefit of others, society and the country and always attaches great importance to gender equality.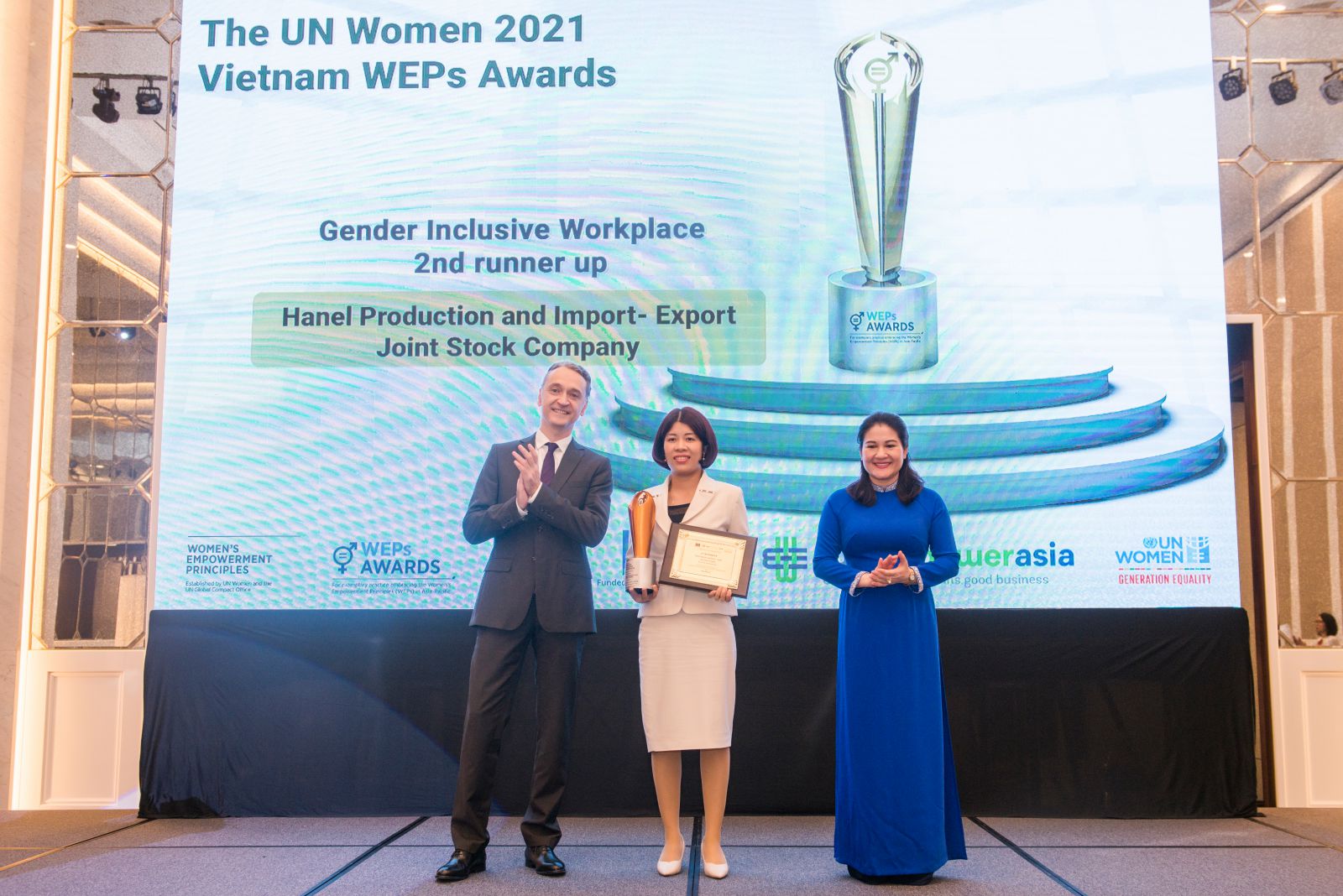 Ms. Vu Anh Tuyet, Head of Human Resources Department of HanelPT - Electronic component manufacturing and processing company received the award from the Organizing Committee.
This WEPs award further affirms the position of Women in society's recognition of gender equality and women's empowerment. HANELPT hopes not only to inspire the employees of the Company but also spread the equal activities to other businesses so that both men and women have the opportunity to give value to their families and communities.
Let's listen to Ms. Trang's sharing about the principles of women's empowerment in corporate environment